Public Meetings and Online Survey Planned to Gather Community Input for Proposed Northumberland County Rail Trail.
​Northumberland County, PA – The Northumberland County Anthracite Outdoor Adventure Area Authority (AOAA) is conducting two public meetings during the month of October to gather community input for the Northumberland County Rail Trail Master Plan. The planning document will outline the feasibility of converting a 36-mile out-of-service railroad line into a non-motorized rail trail for walking and biking. As proposed, the rail trail will connect Sunbury with Mount Carmel, traveling through Sunbury, Upper Augusta, Snydertown, Shamokin Twp, Coal, City of Shamokin, Mount Carmel Twp, and Mount Carmel Borough. To determine feasibility, the Master Plan will:
Evaluate existing infrastructure including bridges
Consider potential trailhead locations and roadway crossings
Review impacts to environmental resources
Estimate construction costs
Outline options for operations and maintenance
The two public meetings will be an open house format with a number of stations to collect public input and answer questions. In addition, there will be a brief presentation at 5:30pm both days. Members of the public are encouraged to attend and take an online survey, available at www.surveymonkey.com/r/northumberlandrailtrail.
Public Meeting #1
When:              Tuesday, October 26, 2021
5:00pm – 6:30pm
Where:             Northumberland County Career and Arts Center
2 East Arch Street, Shamokin, PA 17872
Public Meeting #2
When:              Wednesday, October 27, 2021
5:00pm – 6:30pm
Where:             Northumberland County Administration Center
399 Stadium Drive, Sunbury, PA 17801
Online Survey
When:              Open now through November 5, 2021
www.surveymonkey.com/r/northumberlandrailtrail
The Master Plan, funded by the AOAA along with a Community Conservation Partnerships Program grant from the Pennsylvania Department of Conservation and Natural Resources, began in April 2021 and will be complete by the end of 2021. The planning process is being overseen by the AOAA, County, and a 26-member Steering Committee comprised of local representatives. The public planning process also included focus groups with local residents and stakeholders and coordination with the host municipalities this summer to ensure the draft concept plan for public comment is based on the community's vision.
Please contact Justin Skavery at Justin.Skavery@norrycopa.net for questions. Email is preferred so answers can become part of a question and answer document.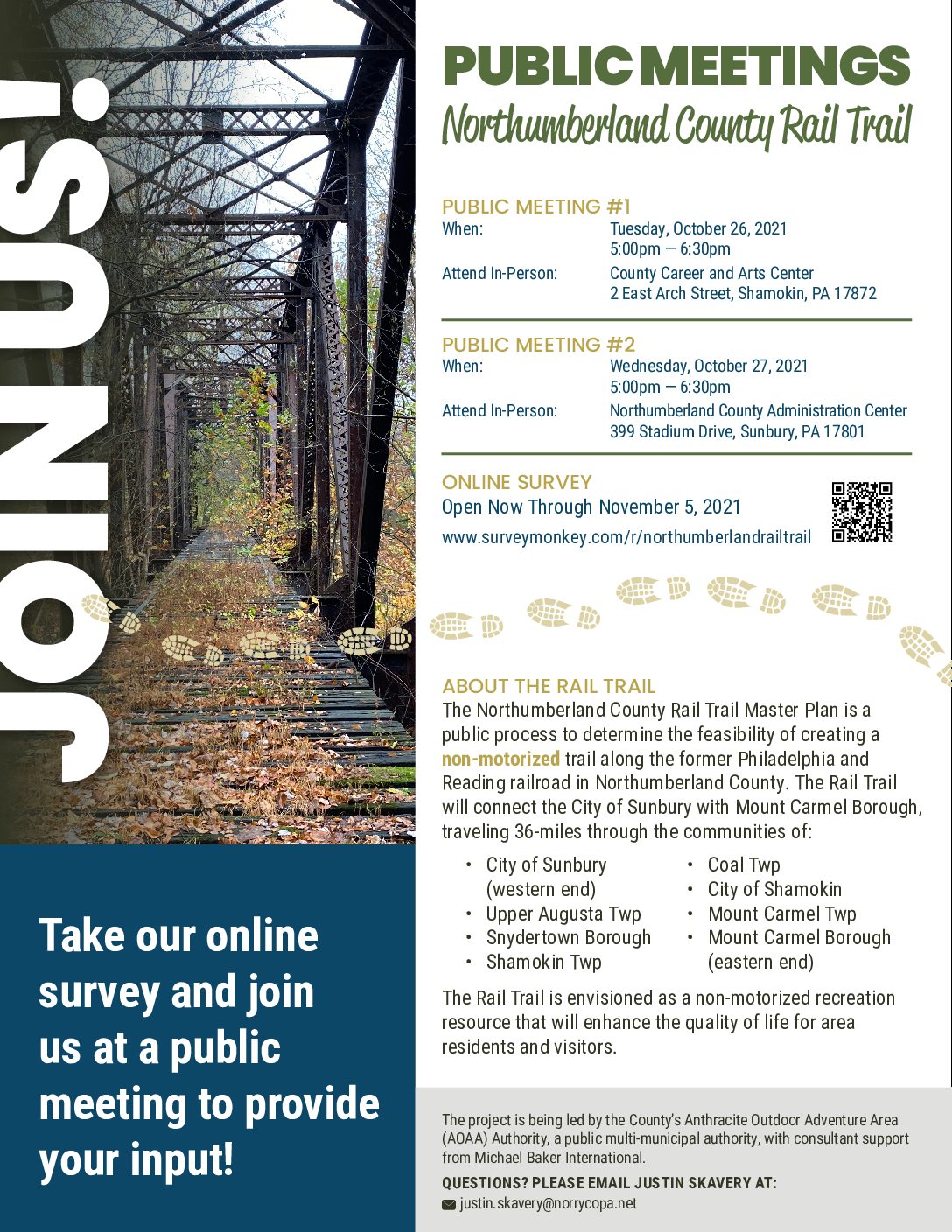 Questions?
Contact Nathan Brophy at our office today at 570-495-4665 x 305 or nbrophy@nccdpa.org. We look forward to hearing from you!